---
---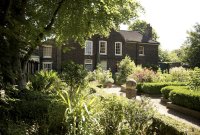 Hotsy Totsy is having a Garden Party and we would love you to join us! 
Taking place in the beautiful Vestry House Museum & Gardens in Walthamstow (a 10min walk from Walthamstow tube), please do join us for a very special Hotsy Totsy evening filled with delicious drinks, nibbles, live music and gorgeous company - with a few little surprises thrown in along the way! 
This event is open to Hotsy Totsy members and non-members so please do gather your girl gang and don your sparkle for a very special summer soirée! 
Tickets are £60 for members and £75 for non-members and this includes all drinks, nibbles & entertainment. 
Non-alcoholic drinks will be available and dietary requirements catered for.