---
Buy tickets
Ticket Type
Price (£)
Fee (£)
Quantity
---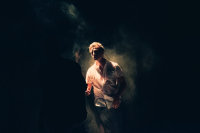 Theatre Lab: A series of five workshops for Artists and Performers. Come along to meet other creatives, network, share and set the world to right. Attend all five workshops for £35 or individual workshop £10.
WORKSHOP ONE: Theatre Lab: Grotowski Plastiques and Articulation with Edward Boott // 25th January- £10
WORKSHOP TWO: Theatre Lab: Unlocking Voice with Aaron Belcher // 1st February- £10
WORKSHOP THREE: Theatre Lab: Lecoq: Embodying Character with David Ralphe // 8th February- £10
WORKSHOP FOUR: Theatre Lab: Mindfulness & Wellbeing for Freelancers with Nikki Disney // 15th February- £10
WORKSHOP FIVE: Theatre Lab: The Art of Play with Gerry Flanagan // 22nd February- £10
Workshops start at 6:30 pm, the studios will be open from 5:30 pm onwards for networking.
For more information email getinvolved@wearenonsuch.com or call 0115 837 1950.