---
---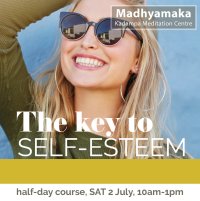 We all want to feel good about ourselves but all too often our confidence and sense of worth seems to rest on achievements, approval or appearance. Since we cannot avoid criticism, always be successful, or remain young forever, this leaves us vulnerable to low-self esteem.
In this meditation course we will explore how it is possible to be anchored in states of mind that are strong, stable and deeply peaceful.
Through meditation we learn to connect to our extraordinary potential rather than our limitations and to transform our difficulties, improve our relationships and progress on the spiritual path.
In this way we begin to have an authentic self-esteem, based on inner validation, that does not depend upon external conditions.