---
---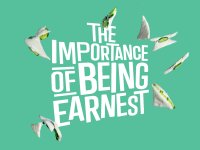 Slapstick Picnic present a fantastically wild(e) new production, ripping up the recipe book and celebrating silliness. Prepare to witness the impossible - the entirety of Oscar Wilde's classic play of manners, affairs and handbags being performed by just two rather dashing entertainers.
This is an outdoor production, so please bring your own chair or blanket to sit on, a picnic to dig into, and dress for the weather!
Notes on Performance
Doors open at 6pm, so bring a picnic and come and enjoy the beautiful surroundings.

Chairs, picnics, blankets and any other low level accessories are welcome.

In case of rain, please don't bring umbrellas as they block sight-lines for other audience members. Ponchos and raincoats are just as fetching, so please wear these instead.

All tickets are inclusive of VAT at 20%.