---
Buy tickets
Ticket Type
Price ($)
Fee ($)
Quantity
---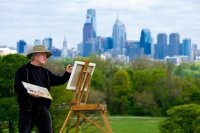 Watercolor
Wednesday,1– 4 p.m.
March 7,14,21,28, April 4,11
Member Cost: $200 per session
Non-Member Cost: $215
Instructor: Bill Ternay
Class size: min 5: max. 10
In this class students will explore the versatile and always challenging medium of water color. Leave your fears at home and give yourself permission to indulge your "Beginner's Mind."
Bill Ternay, former President of the Philadelphia Water Color Society, will introduce students to techniques unique to this elegant medium. You will learn when to put pigment into a wet wash, and the importance of understanding the "drying cycle" of water on the page.
Bill will give you various handouts relating to composition, values, edges, transparency, glazes, and most importantly, understanding the language of color.