---
---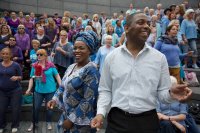 Registration closes Sunday 31st July
Event is on Sunday 18th September @ 2pm
Sing for Water events across the country have raised 1.2 million pounds to change and save lives around the world
Sing for Water is a unique and uplifting outdoor riverside choral event that takes place in September as part of Totally Thames bringing together choirs from across the UK to raise money and awareness for WaterAid. Co-founded in 2002 by the Thames Festival Trust and renowned composer, singer and musical director Helen Chadwick, Sing For Water has raised 1.2 million pounds to change and save lives around the world.
Choir Leaders
If you would like your choir to be part of Sing for Water 2022, taking place on Sunday 18 September, you should register by contacting Kate Forde, our Head of Education and Engagement, no later than Sunday 31 July.
Your singers must also each register individually via the link to pay their £5 fee Kate will then send you all the songs and information to circulate to your singers.
Singer's Attendance Fee
Singers must register both with your choir leader and as an individual here. Your choir leader will give you all the songs and info. If you are an individual (not with a choir) who has registered online and needs the songs/ info, Please contact Kate Forde.
Please note that as well as registering online here you will also need to register with your choir leader so that they know how many numbers to expect over the weekend. They will then be responsible for sending you the up to date music and event information.

For further information head to thamesfestivaltrust.org or email Kate Forde.