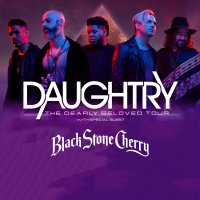 Join us in our mountain amphitheater for multi-platinum #1 Rock & Roll torchbearer Daughtry.
Prepare to electrify your summer with one of the biggest acts to ever hit the stage at Cherry Peak. 

After more than 9 million album sales,16 million singles sold worldwide, and tons of radio play, Daughtry's live act sells out around the world. 

And with good reason. Daughtry's first album was the top-selling album the year it debuted, and became the fastest-selling rock debut in Soundscan history.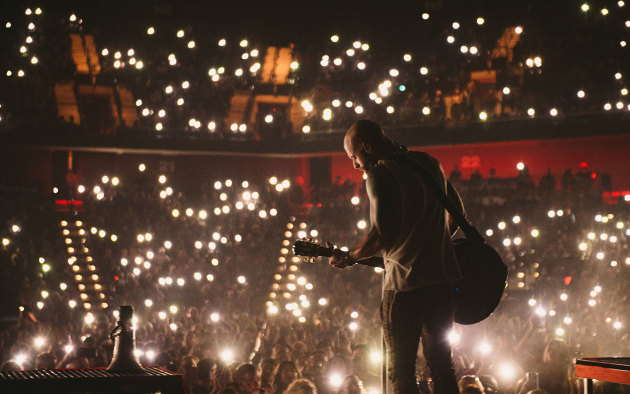 With four Grammy nominations, four American Music Awards and seven Billboard Music Awards, and his rocket-fuel start as an American Idol finalist, Daughtry is no stranger to notoriety.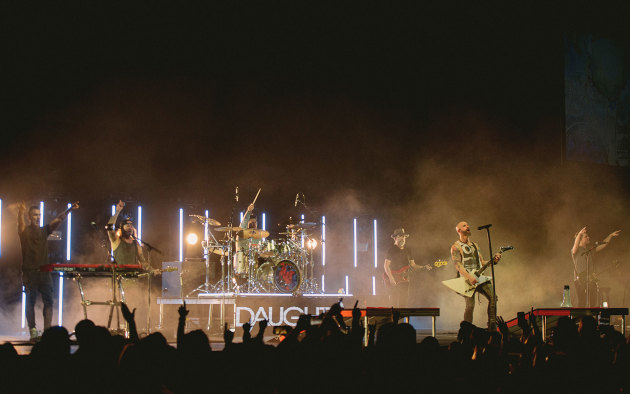 THE MUSIC
But it's all about the music, and you'll love every minute with favorite headbangers and hits like:
Over You

No Surprise

Waiting for Superman

Crawling Back to You

What About Now

It's Not Over

Home

Feels Like Tonight

Battleships

World On Fire
And many more. Daughtry's distinctive voice and recognizable riffs will keep you grinning all night long on Aug. 2, 2022.
VIP EXPERIENCES AVAILABLE
Daughtry puts on an incredible show, but the VIP experiences will make it even better. All VIP-level tickets get you access to the VIP tent with hors d'oeuvres and the best seating in the house. But we also have some seriously memorable experiences lined up as well. All VIP merchandise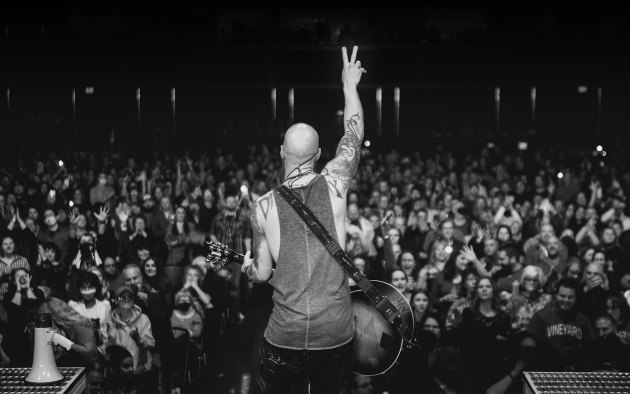 Daughtry Pre-Show Experience
The pinnacle, exclusive Daughtry tour experience lets you meet the band, get autographs, and create lifelong memories. 
◉ One (1) premium reserved seat in the first (10) rows -OR- one (1) general admission VIP pit ticket 
◉ VIP early entry into the venue
◉ Hangout with Daughtry + say hello while getting something personalized and autographed by the band during a signing session
◉ Collectible tour lithograph
◉ One (1) official Daughtry tour t-shirt selected by you at the merch table!
◉ Daughtry branded koozie
◉ Specially designed Daughtry cinch bag 
◉ Exclusive Daughtry VIP patch
◉ Official VIP laminate
◉ Crowd-free merchandise shopping
◉ Very limited availability
◉ On-site VIP host
Daughtry Tour Package
Get a premium seat and VIP swag that'll make your Daughtry experience even better.
◉ One (1) premium reserved seat -OR- general admission VIP Pit ticket
◉ Collectible tour lithograph 
◉ Daughtry branded koozie
◉ Specially designed Daughtry cinch bag
◉ Exclusive Daughtry VIP patch
◉ Official VIP laminate
SUPPORTING ACT: BLACK STONE CHERRY
Coming to Cherry Peak with Daughtry is a Top-10 Southern rock act you'll wish you would have known sooner if you're first exposed to them at the show. 
Black Stone Cherry brings the energy, and you'll find yourself at home almost instantly with their brand of anthemic hard rock with southern tinges in the powerful vocals, burly riffs and slamming solos.
Black Stone Cherry's albums have debuted in the top 10 in the US and the UK has amassed millions of YouTube views and sold out arena shows of 12,000 people.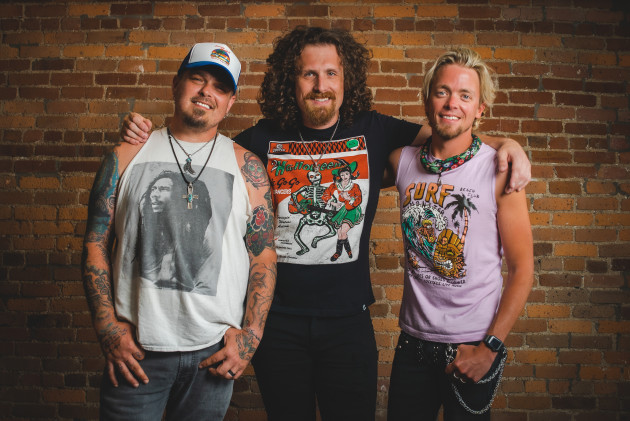 We'll Catch Ya At the Peak!
Tickets are going to go fast. Get yours now before we sell out.*


GET SEASON CONCERT PASSES TO SAVE ON BIG-NAME ACTS
Want to catch up to 6 big-name concerts in country, rock, and pop of the same caliber as Daughtry this summer? 
Get season tickets now to save up to $300 off entry prices.

ANNOUNCED SO FAR: 
Daughtry: Aug. 2 
Josh Turner: Aug. 11 (Get Tickets)

VENUE INFORMATION:
VENUE MAP: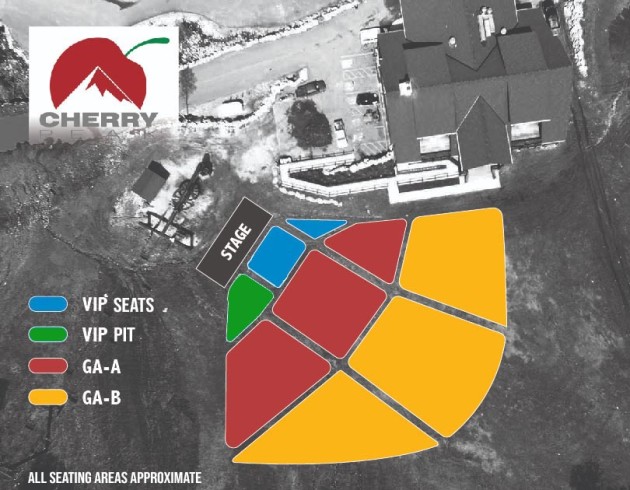 𝗧𝗜𝗖𝗞𝗘𝗧 𝗣𝗥𝗜𝗖𝗘𝗦 𝗦𝗧𝗔𝗥𝗧 𝗔𝗧 $𝟯𝟱:
𝗚𝗲𝗻𝗲𝗿𝗮𝗹 𝗔𝗱𝗺𝗶𝘀𝘀𝗶𝗼𝗻 𝗕: $35 + Taxes & Fees
𝗚𝗲𝗻𝗲𝗿𝗮𝗹 𝗔𝗱𝗺𝗶𝘀𝘀𝗶𝗼𝗻 𝗔: $47 + Taxes & Fees
𝗩𝗜𝗣 𝗣𝗶𝘁 𝗼𝗿 𝗦𝗲𝗮𝘁𝗶𝗻𝗴: $95 + Taxes & Fees
𝗩𝗜𝗣 𝗧𝗼𝘂𝗿 𝗣𝗮𝗰𝗸𝗮𝗴𝗲: (VIP Stageside Pit, Collectible Lithograph, Band Swag, Official VIP Laminate, Access to VIP Tent): $179 + Taxes & Fees
𝗩𝗜𝗣 𝗣𝗿𝗲-𝗦𝗵𝗼𝘄 𝗘𝘅𝗽𝗲𝗿𝗶𝗲𝗻𝗰𝗲: (Hangout w/ Daughtry pre-show, Collectible Lithograph, Tour T-Shirt, VIP Pit Access, VIP Host, More): $349 + Taxes & Fees
(All seating areas are approximate and subject to change.)

GENERAL CONCERT INFO: 

VIP SEATING:
Includes lawn/camp style chair as shown above as well as access to the VIP Grand Room with hors d'oeuvres and soft drinks while supplies last.

VIP PIT: 
The Pit area is closest to the stage with a strict no-chair policy. (No VIP Grand Room access.)

Check your ticket purchase to see if your ticket qualifies for the free chair rental. Unless in pit area, you may bring your own seating, but see requirements in graphic above. Seating within the VIP section is on a first come/first served basis, so arrive early for the best possible seat. Roughly the first 10 rows will be reserved for Daughtry Pre-Show Experience Guests. VIP seating will only be allowed up to two hours before show time. Hors d'oeuvres and soft drinks will be provided while supplies last.

GENERAL ADMISSION SEATING:
General admission seating space is virtually unlimited and includes the grassy area behind the VIP seating and beyond. Some concerts include two General Admission areas (General Admission area A and General Admission area B) with the area closer to the stage available at a slightly higher cost.

You are welcome to bring your own blankets or concert chairs for seating, provided the chairs stand no taller than 26 inches (not a standard camp chair, see photo above). We do ask that you don't take up an unreasonable amount of space for either chairs or blankets and we reserve the right to limit the size and number of blankets as we see fit in order to best accommodate all guests.

Limited seating will be available for individuals with disabilities or conditions that may require seating not in compliance with the chair regulations. Please see a member of the Cherry Peak staff upon arrival for assistance.

Please carry out everything that you carry in to help keep our facility clean. General admission seating is on a first come/first served basis, so arrive early for the best possible seating.

General admission seating will only be allowed up to two hours before show time.

WEATHER CONDITIONS AND CONCERT CANCELLATION
Rain or Shine THE SHOW WILL GO ON! Please dress appropriately for the weather conditions. Please remember that it can become cool at night at Cherry Peak Resort once the sun goes down.

If for some reason a show must be cancelled and cannot be rescheduled, we will refund your purchase minus the facility fee. 

PHOTOGRAPHY
Recording or transmitting of the concerts is strictly prohibited. Flash photography is also prohibited. Non-flash photography may be permitted. If photography is completely prohibited, an announcement will be made prior to the start of the show.

FOOD AND DRINKS
Food and beverages will be available for purchase before and during the shows. Outside food will not be allowed in the venue. NO COOLERS ALLOWED AND NO GLASS CONTAINERS.

SMOKING/VAPING
In compliance with the Utah Clean Air Act, Cherry Peak is a non-smoking facility. Smoking and vaping are permitted only in the desiganted area outside the main entrance gate. Thank you for your cooperation.

APPROPRIATE CONDUCT
We want the Cherry Peak concerts to be enjoyed by all participants. Therefore, guests are expected to dress and conduct themselves in an appropriate manner and to refrain from both conduct and language that would be considered offensive or disruptive. If you are dressed in an offensive manner, or are engaged in any type of inappropriate conduct, you may be escorted from the premises.

PETS
With the exception of service animals you may not bring pets to the concerts. Comfort animals are also prohibited.

PARKING
Premier parking passes (for parking near the lodge) are available on a limited basis for each concert and may be purchased online or in person but are anticipated to sell out quickly for most concerts. Parking with shuttle service to and from the concert area is available at locations further down the canyon for a fee of $10.

MOBILITY IMPAIRMENTS
If you or a member of your party has mobility impairments, accommodations will be made for seating a wheelchair accessible area. This includes both general admission areas as well as th VIP seating area. Notify a parking attendant or other member of the Cherry Peak staff upon arrival for further assistance. You may also call Cherry Peak Customer Service at 435-200-5050 in advance to arrange for special accommodations.

RETURNS
All ticket sales are final, but tickets are transferable and may be resold in the event you can't make it.

CUSTOMER SERVICE
Please contact info@skicherrypeak.us or call 435-200-5050 for customer service not covered by this FAQ.

DIRECTIONS
ONLY 20 MINUTES FROM LOGAN! Turn east at the stoplight in Richmond, just 15 minutes north of Logan and south of Preston. Turn north on 300 East, then east again on 500 North (which turns into 11000 North). Follow the paved road just another few short miles up the canyon to Cherry Peak Resort!

Address:
3200 E 11000 N.
Richmond, UT 84333