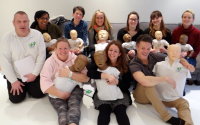 First Aid for Life is an Award Winning and fully regulated First Aid training business.
We run the one day intensive paediatric first aid course and the full 12 hour paediatric first aid course for childminders and early years workers. For the 12 hour blended learning course, the practical course is held on the above dates - and you need to complete 6 hours online pre-learning before the hands-on learning.
Our trainers are highly experienced medical, health and emergency services professionals and deliver practical, informative, relevant and enjoyable First Aid training. We will be able to answer questions around the subject and will adapt the training to suit your needs. First Aid for Life Paediatric courses fulfil Ofsted criteria for child carers.
The Ofsted intensive course is a particularly good course for those working with and caring for children, or indeed for parents, as it gives a thorough grounding all likely elements of First Aid and in addition I cover adult CPR as well as CPR in babies and children. The course covers all elements of the Ofsted syllabus, incorporating all commonly occurring injuries and illnesses. Everyone receives a full course manual and a Paediatric First Aid Certificate stating that we cover the full Ofsted syllabus and this is valid for 3 years. All attendees will be individually assessed.
For more detailed information about this course please visit my website
http://www.firstaidforlife.org.uk/first-aid-course...
The course will run from 9.30 until 16.30 (please arrive at 9.15 and make your way down the steps at the front of the house to the training room).
Please arrive 15 minutes before the course is due to start and make your way down the steps at the front of the house to the training room. If you are more than 15 minutes late we reserve the right to refuse admission.
We also run basic Emergency First Aid 3 hour courses, the Emergency First Aid at Work (including child first aid and other additions) and group FAW and 2 day requalification.
If you need the 12 hour course, please contact us, or book directly on www.onlinefirstaid.com - the 2 day course is £135pp

For help choosing the right course or to arrange a totaly bespoke course please get in touch: emma@firstaidforlife.org.uk