---
---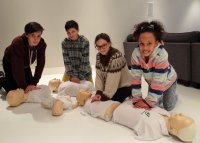 This is a special course designed for teenagers (from 8 years to University students). It is taught by highly experienced medical, health and emergency services professionals and will cover vital areas to help teenagers keep themselves and their friends safe. We will cover; resuscitation, the recovery position, major bleeds and stabbings, what to do if one of their friends has drunk too much, asthma, acute allergic reaction, head and spinal injuries and much more.
We also have an online version of this course which enables those undertaking this for their Duke of Edinburgh Skill to do the course in chunks over a 3 or 6 month period and join us for a practical course to consolidate their learning. Practical group courses can be arranged throughout the UK.
First Aid for Life is an Award Winning fully regulated and Approved Provider through Ofqual and Qualsafe Awards.
Our trainers are highly experienced medical and emergency servcices professionals who deliver practical, informative and enjoyable First Aid training. We will be able to answer questions around the subject and will adapt the training to ensure it is relevant to you. Please let us know if there are any particular areas your would like us to cover and we will include them into the course. This course is suitable for people needing a basic Sports First Aid qualifcation and we can include baby and child first aid if they are looking to babysit.
The course will be tailored to the needs of those attending and you can choose to focus on adult, baby or child First Aid - or learn how to help all ages.
For more detailed information about this course please visit my website.
https://firstaidforlife.org.uk/first-aid-courses/first-aid-teenagers/
This course will be held at 74 Ramsden Road, SW12 8QZ. If these dates don't work for you, please book onto one of our scheduled Emergency First Aid courses.