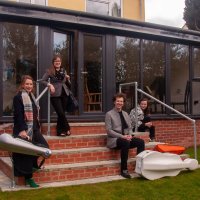 A Summer Soirée

Quartet in f minor, Op 1 no 3 by Hyacinthe Jadin (1776-1800)
The Martian by Paula Muldoon (b. 1986), world premiere
Quartet no 1 in B-flat major by Franz Joseph Haydn (1732-1809)
Saturday 11 June at 6pm

Join the Cambridge String Quartet as they celebrate the return of violist Monica Cragg with music by Jadin, Muldoon, and Haydn at a private home in Girton on Saturday 11 June at 6pm. Jadin's dark f minor quartet contrasts nicely with Haydn's jolly first quartet. First violinist Paula Muldoon's work The Martian, inspired by the Mars Perseverance Rover landing, will also receive its world premiere. The evening will have the Quartet's usual blend of humour and joy, and promises to be a fun evening for music lovers of any genre.
Join the members of the Quartet at The George in Girton after the concert. If you would like to order food, please answer accordingly when you buy your ticket, as we will add you to the dinner reservation!
The Cambridge String Quartet was founded in 2020 to offer a world-class ensemble embedded within the Cambridge community. Its members, Paula Muldoon, Dr. Rachel Stroud, Monica Cragg, and Joshua Lynch, have performed and recorded internationally with some of the world's greatest ensembles and are united in their desire to share their love of the string quartet (and trio!) repertoire with everyone in Cambridge.
Tickets for the event are £18 (general admission) and £15 (Friends). Seating is limited to 20 so get your tickets soon! 
Covid precautions: seating will be limited and windows will be kept open. All attendees are required to have been fully vaccinated.
Venue information: The concert will be held at Yellow House Labs, a private venue in Girton (full details will be sent upon booking). Guests are encouraged to cycle or take the bus, in keeping with the Quartet's eco-friendly ethos, but there is plenty of on-street parking in the village if required. Doors open 15 minutes before the concert. Please be prepared to give your name as you enter (no ticket printing required).