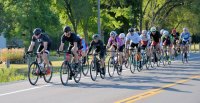 The 19th Annual Kawartha Lakes Classic is a charity cycling tour that will be held on Saturday, August 27, 2022 and hosted by the Kawartha Cycling Club.
All proceeds from the Kawartha Lakes Classic will benefit A Place Called Home (APCH) a charitable, non-profit organization that has been providing 24/7 support services to the homeless, and those at risk of becoming homeless, for over 20 years in the City of Kawartha Lakes and Haliburton County. APCH operates a 19-bed emergency shelter for youths, adults, couples and families providing shelter along with meals, laundry facilities and the counselling needed to find permanent housing and supports to help break the cycle of homelessness.

The Kawartha Lakes Classic provides 100% of the annual funding to feed the homeless men, women and families of the City of Kawartha Lakes and Haliburton County.
This year we offer the following routes: 

Quiet country roads with scenery to enjoy. Please note, this year's 160km ride is anticipated to be challenging and hilly. 
Road Routes:
50km - 9:30am start time
100km - 8am start time
160km - 8am start time
Smooth gravel trail ride enjoyable to new and experienced riders. 

Trail Routes
18km -10:30am start time
34km - 10:00am start time
48km - 10:00am start time
Fundraise to Ride
For participants interested in our Fundraise to Ride option. We have setup a Canadahelps fundraising site which you can register and create a fundraising page to circulate to friends and family. In order to ride at no additional cost, a minimum of $200.00 needs to be raised.
To create a page please click here
For those who like a more traditional paper based approach, a pledge form can be downloaded here
Starting and finishing at I.E Weldon Secondary School, Ontario, the scenic routes have been chosen keeping riders' different capabilities in mind, but always with an emphasis on fun. The trail routes are ideal for families and include an out and back ride on the Trans Canada Trail (suitable for all bikes). The 50/100/160km rides are all on quiet paved roads.
I.E Weldon Secondary School is located at 24 Weldon Rd., Lindsay ON
Riders aged 16 and under must be accompanied by an adult.