---
---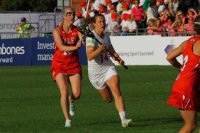 Spencer Lacrosse Club is thrilled to once again be working in partnership with Ash Gloster and her lacrosse coaching company, AMG Sports. Ash and her team of coaches will be back to run our inaugural Summer Lacrosse Camp from Monday 22nd – Friday 26th August 2022.
With over 50 Caps and England Captain for 4 years, the pinnacle of Ash's playing career was in 2017 when she led the England Lacrosse to a Bronze Medal in the World Cup!
Now Assistant Coach for Wales and one of the Head Coaches for The Fly (a new National 6 a-side event showcasing lacrosse at the highest level ) last summer, Ash is delighted to be able to offer a team of exceptionally experienced coaches for all abilities (absolute beginner through advanced) within the Year 5 – Year 11 age groups.
We could not think of a better team of people to better equip you with skills, drills, strategies and techniques.
For further info please see the FAQ's below