---
---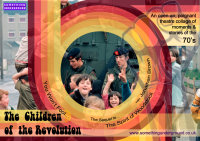 "….a massive theatrical achievement. …. deserves some kind of award!"
Brighton Source (Full Review here)

5 Stars! "… an exceptionally crafted and masterfully executed epic."
The Lewesian,

A thought-provoking, poignant, lump-in-throat, dynamic, energetic and semi-immersive theatre collage of the stories and era that surrounded the "Mother of Free Festivals."
"The best feelgood, dance along, piece of theatre I've ever seen. Really brought everyone together. Highlight of my festival" via Sally Edwards.
"Among the festival highlights were watching Jonathan Brown's play about Woodstock. If you get a chance to see this, do it!" Adam Wilder
"this was my festival highlight – utterly brilliant piece of work – and hope many many get to see it. Thank you!!!" Bianca Gavin
"…really entertaining- you are a master of character" Mo Cohen.
"…an amazing rollercoaster which is moving, hilarious, revealing and joyful. Jonathan is a high speed shapeshifter!" Mark Mansbridge
"…a real treat to watch it brought to life so brilliantly. What a hoot!" Lizzie Lights.
Inspired by the ethos of the hippie, counterculture, and free festival movements, and still retaining remnants of these traditions, Award-winning Something Underground Theatre Company brings you it's tribute to Woodstock '69

AND NOW ALSO….
The Spirit of Woodstock's sequel show, about the 70's…
The Children of The Revolution