---
---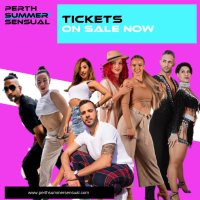 The Bachata and Salsa dance festival in Perth, Western Australia. 
✔Smoking hot line-up and best summer vibes!

Come early and warm up with the pre-party on 16 March 2023, enjoy the workshop by our headline act Magda y Valeria. 
Join us for official workshops and parties 17-19 March 2023 at one of Perth's classiest locations.
✔Take part in classes by the best international and national Salsa and Bachata artists. 
✔Between the classes, revel in Western Australia's beautiful weather, hit the most marvelous beaches in the world or stick around and enjoy the dances by the pool.
✔In the evenings, we have lined up dance shows by world class international and Australian performers for you.
If this is not enough, let's all dance the night away together to the best Salsa and Bachata music until you can do no more.
International artists:
Magda & Valeria (Bachata)
Carlos & Chloe (Bachata)
Richie & Almendra (Salsa)
Alain & Katerina (Salsa)
National artists:
Jaime Jesus and Mary-Grace
Kiki and Julian
Juan Ruiz
Mutati
More to be announced.