---
---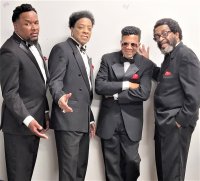 Bill Pinkney's Original Drifters
Sunday, July 17, 2022 at 4:00 pm
VIP Seating: $30.00; Main Floor $25.00; Balcony & Wheelchair/Companion $20.00
No additional fees!  To order tickets by phone, please call 330-481-9105.
No refunds or exchanges

"The best act of its genre on the music scene today," the Bill Pinkney legacy group still reflects the entire Legendary Drifters presence in the music industry and weaves a blend of nostalgic magic and on-stage excitement with a 21st Century twist.   
"The Drifters were the all time greatest Atlantic recording group" said Ahmet Ertegun, founder of Atlantic Recording Company and the Rock and Roll Hall of Fame. In 1988 the Rock Hall inducted the seven significant contributors to The Drifters' legacy - originals Clyde McPhatter, Bill Pinkney, and Gerhart Thrasher, and subsequent members Johnny Moore, Ben E. King, Rudy Lewis, and Charlie Thomas - the recognized Drifters.

Perhaps Steve Leggett said it best. "Blessed with a succession of great lead singers, the immortal Drifters provided the prototype for R&B vocal groups and set the stage for the onset of soul with over ten years of marvelous singles beginning in 1953."
Some of the hits of The Drifters include: Under the Boardwalk; There Goes My Baby; Up On the Roof; Saturday Night at the Movies; Some Kind of Wonderful; This Magic Moment; and Save the Last Dance For Me.