---
---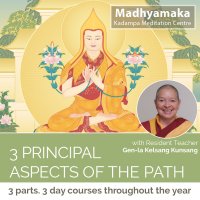 The third Principal Aspect of the Path
Make wisdom your best friend
With wisdom solutions we stop chasing mirages, we make our happiness more secure and stop feeding disappointment.
Every problem - from personal to global - has one common root: intelligent people trying to be happy but not knowing how. We are so surrounded by cleverness and confusion we cannot see clearly. We need wisdom. Wisdom shows us how things are - not what our deluded minds or wrong opinions tell us. Wisdom shakes off our ignorance. It starts to cut the root of our problems and lays the foundations for lasting happiness.
Gen-la Kunsang will introduce us to Je Tsongkhapa's sublime teachings on wisdom. She will help us to get a clearer picture of how we can relate to our world in a more realistic way and question some of the false assumptions we make about ourselves. Wisdom confronts our deep mental habits – but it is better to feel challenged by the truth than convinced and forever disappointed by what is wrong.