---
---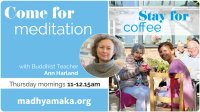 June Theme:
Why me? Understanding karma
DATES: 9, 23 and 30 June (NO CLASS 2 and 16 June due to Spring Festival) 
Karma does not mean fate. It means the freedom to manage our future. Understanding karma gives new confidence to life. 
If we knew the causes of our experiences we would certainly choose happiness and avoid the causes of suffering. We do try this – all the time – but with little success. This is because we think our experiences come from outside ourselves. Karma says otherwise. When we understand the inner world of karma we discover a different way of creating a happy, positive future for ourselves.