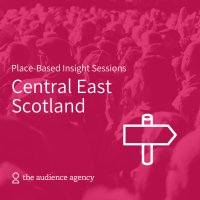 Join The Audience Agency for a discussion about audiences within Central East Scotland (Edinburgh City Region).
These sessions will include sharing of data about the local population and audiences, from a range of sources (inc. Audience Finder Data Tools, Audience Spectrum segmentation, Area Profile Reports and more). We'll share what we have learned from looking at this data, hear how it fits with your own insights about local audiences, and discuss what it all might mean for your audience and community engagement.
For this session, we will be discussing insights into the population and audiences from the Edinburgh City region.

Who:
This session is open to everyone looking for more granular information about audiences in your local area. It will be particularly insightful for anyone responsible for or involved with audience development planning in their organisation.
Sessions in any area are open to anyone to attend, you don't have to be an organisation or venue in this area. For example, you may be considering touring work, or working with communities in new places.

Format:
Place-based insight sessions will be a combination of presentations and group discussions. There will be opportunities to answer questions throughout. These sessions are two hours long, with a short comfort break halfway through.
Facilitator:
Oliver Mantell, Director of Evidence and Insight at The Audience Agency.
The Evidence and Insight team shares findings from The Audience Agency data and research to support the sector.


Access:
All events will provide Zoom automated transcription in English. Other access services, including Live transcription (instead of Zoom's automated transcription) and British Sign Language interpretation, can be requested in the booking form and will be provided where possible. Please book as soon as possible to allow time for arrangements to be made.
Hosted by: