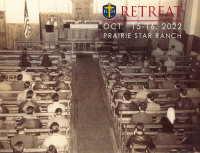 DESCRIPTION
Inspired by Servant of God Father Emil Kapaun, Kapaun's Men unites men in prayer, formation and discussion in order to help us courageously respond to God's universal call to holiness and become better husbands, fathers, leaders and friends.
This year's retreat will be an opportunity to refresh and to let the Holy Spirit move you in a new way. MC'd by Joe Farris, you will have the opportunity to listen to great speakers, to enter into authentic conversation with other great men, and to spend time with God in prayer. No need to regularly attend a Kapaun's Men event- anyone 18 and older is welcome to join us. Don't miss this opportunity to reclaim who you are made to be!
Your retreat fees include Saturday lunch, a great Saturday dinner, coffee, Sunday breakfast, a brand new Kapaun's Men challenge coin, your overnight stay, and of course a great retreat experience!

Location
Our annual retreat is hosted at Prairie Star Ranch in Williamsburg, Kansas. Prairie Star is a ministry of the Archdiocese of Kansas City Kansas and is a great Catholic retreat center. Located less than 2 hours from Wichita and Pittsburg, it's a great centralized location for us to gather for retreat!
The facilities at Prairie Star Ranch include a large Chapel with the Blessed Sacrament, a dining hall, a hall for talks, bunkhouses, and lots of great walking areas to explore. We do stay in bunkhouses with multiple beds per room, so if you have any questions or concerns about your stay, please let us know.

FAQs
Is there a minimum age requirement to attend the retreat?
Yes, everyone in attendance must be 18 years of age or older.
What if I can't afford the full fee?
We're happy to work with you if you wish to attend the retreat and can't afford the full fee.  Please reach out to Scott Carter at carters@catholicdioceseofwichita.org or 316-263-1316.
Who can I contact with questions?
Contact Scott Carter at carters@catholicdioceseofwichita.org or 316-263-1316 with any questions or concerns.
What's the refund policy?
We will refund your ticket up to a week before the retreat. Please contact Scott to request a refund.