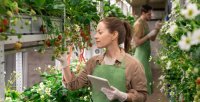 Controlled Environment Agriculture (CEA) 4.0 returns for its 3rd edition in its focus on supporting farms, farmers and produce providers through the provision of knowledge and assistance on the key aspects of the evolving technologies, processes, and practices being developed, used, and implemented for indoor farms to enhance their productivity and yield.
Attendance is complimentary for all employee representatives of indoor farms who are solely focused on growing their own in-house food & produce directly to consumers. Please click on the blue button that reads Attendance & Registration Options to register your attendee ticket.

Over 500 indoor farming professionals from 250+ farms, farmers, produce suppliers and industry solution providers will once again be joining the event, providing the industry with the unique opportunity to outline and discuss the advancements, innovations and efficiencies that are ongoing to support the evolution and development of the indoor farm.
Day 1 Conference (Virtual) - Friday 12th May
Day 2 Conference (Virtual) - Friday 26th May

Conference Room 1 - Smart Solutions for Enhanced Performance and Operations of the Farm
The ability to assess the farm's operations, sustainability and efficiency are key factors in making the farm productive and viable. Continued developments in technology, practices, and processes, are supporting the variables of energy, technology, automation, labour, materials, water, waste management and other inputs, in the consideration of production yields.
​Conference Room 2 - ​Smart Solutions for Optimising Plant Growth
With a controlled growing environment, all aspects of a plant's growth can be influenced through the control of light, temperature, humidity, irrigation, nutrition, and air composition. This allows the possibility to eliminate variations in the growing environment, enabling growers to optimise plant growth to produce consistent, high-quality crops all year round.
Current Conference Presenters - AEH Innovative Hydrogel, ARCO/Murray, AgriSynth, Artechno Growsystems, Avisomo, BayWa, Berry Gardens Growers, CO2 GRO, Columbi Farms, Concert Bio, Cultivatd, Current Lighting, FarmTech Society (FTS), Foamplant, Gardin, Growfoam, GrowUp Farms, HarvestAi, Heliospectra, Hoogendoorn Growth Management, HPNow, HRVSTS, Jiffy, Innovate UK, Intelligent Growth Solutions (IGS), Iron Ox, LetsGrow.com, LettUs Grow, Light Science Technologies, Local Bounti, Meissner, Optimal Agriculture, Plenty, Re-Nuble, Revol Greens, Seasony, Signify, Sollum Technologies, Skytree, TAEDA Tech Project, The James Hutton Institute, TTA, TTP, UKUAT, Wageningen University & Research, Winter Farm, Zayndu
Current Companies Attending - Abu Dhabi Agriculture and Food Safety Authority (ADAFSA), AEH Innovative Hydrogel, AgriSynth, AgriVerti, Ag Consultation, Agrecalc, AgriBot, Aponix, APS Group, Aright Greentech Canada, ARCO/Murray, Area 2 Farms, Artechno Growsystems, Arup, Ascend Wellness, Ascotsun, Avisomo, BayWa, Berry Gardens Growers, BerryWorld, Bison Agro Farms, Blue Skies Discovery, Burleigh Dodds Science Publishing, Champerché, CO2 GRO, Columbi Farms, Concert Bio, Controlled Environment Agriculture Center (CEAC), Costa Group, CropTalk Media, CubicFarms, Cultivatd, Current Lighting, Danfoss, Delphy, Dyson Framing, Enviro Advice, E P Greens, European Bank for Reconstruction and Development (EBRD), Everberries Farming, Farmer Charlie, Farmshelf, Farmship, Farmtastica, FarmTech Society (FTS), Fieldless Farms, Foamplant, Fotenix, Future Farming, Gardin, Growfoam, GrowUp Farms, Guerrilla Farms, Green Flavours, Greencore, Greenview, HarvestAi, Heaven Farms, Heliospectra, Hoogendoorn Growth Management, HortiDaily, HPNow, HRVSTS, iGrow News, Indoor Ag-Con, Infarm, Intelligent Growth Solutions (IGS), Interius Farms, International Fresh Produce Association (IFPA), International Fertilizer Development Center (IFDC), Iowa State University, Innovate UK, Iron Ox, Ivaldi Group, JEPCO (Glebe), Jiffy, Langley Indoor Produce, LBM Agtech, LetsGrow.com, LettUs Grow, Light Engine International, Light Science Technologies, Local Bounti, Ljusgärda, Mälardalens University, Meissner, Meod, Montel, MSP Technology, Mucci Farms, NanobOx, Net Carbon, Nordic Harvest, Nutrient Service, OneFarm, ONNA, Optimal Agriculture, Perfectly Fresh, Petermaya, PIIP, PhycoWorks, Phytobiomes Alliance, PhytonIQ, Planet Farms, Plantaform Technology, Plenty, PLNT, Plymouth University, Quick Plug North America, Re-Nuble, ReBORN, Remarkable IdeaLab, Resource Innovation Institute, Revol Greens, RSK ADAS, Seasony, Sensei Ag, Sharabati Brothers Company, Shipshape Urban Farms, Skytree, Siemens, Signify, Smallhold, Soli Organic, SolFood Farms, Sollum Technologies, Stacked Farm, Syngenta, Swansea University - Centre for Sustainable Aquatic Research, SweGreen, TAEDA Tech Project, The James Hutton Institute, The Rowett Institute (University of Aberdeen), TruLeaf, Truly Green Farms, TTA, TTP, UKUAT, until, Uns Vertical Farms, Upward Farms, Urban Agri, Vertical Acres, VerticalFarmDaily, Vertric Greens, Vertical Malta, Vertically Urban, Viniera Vineyards, Wageningen University & Research, Wieland Electric, Wilder Fields, Winter Farm, Würth Elektronik eiSos, Yellowhammer Genetics, Zayndu, Zero Carbon Farms, Zordi

VIP Attendee Ticket Option Includes

Full conference & event access provided for the entire event

Instant messaging and 1-1 video networking with any attendee

Access to the event platform for 21 days for you to use and to network with other attendees

Access to recordings of event presentations

Customisable company & attendee profiles with various multimedia content options
IF YOU ARE INTERESTED IN PRESENTING AT THE CONFERENCE, EXHIBITING OR WOULD LIKE TO VIEW THE AGENDA PLEASE EMAIL INFO@TECH40.NET