---
---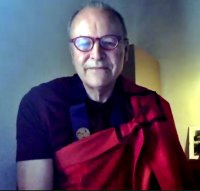 The course is a two year and a half programme delivered in five semesters each of three or four units. The first semester began 1st February 2022 and runs to the summer. Each unit contains three sections of study material with accompanying exercises. Thus, each "section" involves two weeks of study on a specific topic. Topics begin with broad questions, such as the nature of Buddhist psychology, progress through the psychological implications of Dharma principles and on to applications in psychological therapy and in daily life. The theoretical basis is mostly derived from the Abhidharma and other Buddhist texts. Material is presented in practical and easily accessible form. The course is delivered entirely online.

The programme involves
- study material provided on line with some recorded lectures
- exercises & assignments to do in one's own time and report back on
- exercises to do in pairs or small groups to develop skills and sensitivity
- discussion with tutors and other students
- on-line zoom seminars every two to three weeks
There are also other associated events
- weekend online workshops three times per year
- summer school in-person in France
It is a co-operative learning programme. Students see each other's work and have plenty of scope for getting to know one another and for discussion of topics and experience. The material is both theoretical and practical and is extensive. One should allow for a time commitment of minimum three hours per week.

The content of the course covers major Buddhist psychological theory and its relevance to daily life and to psychotherapy practice. one does not have to be a psychotherapist to do the course, but therapists and others in human relations work will generally get most from it as they will be able to apply the principles in their work. However, students in other professions have also reported significant benefits in their interactions at work and at home.

This is a course of Buddhist principles applied as psychology. It is not really an integration of Western and Buddhist psychology, though comparisons are made throughout. It covers the material in the books Zen Therapy and The Feeling Buddha and other works of Dharmavidya's, plus a good deal more:
- dependent origination
- different forms of conditioning of the mind
- the skandha cycle
- Buddhist work with strong emotions
- dukkha and its transformation
- calm and insight
- the role of faith, purpose and refuge
- styles of Dharma-based psychotherapy- sudden awakening and gradual cultivation
and many other similar topics.

The proposed fee is £200 per semester.

Please contact the event organisers for more information.