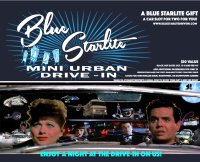 GIVE THE GIFT OF THE DRIVE-IN! AND SUPPORT YOUR LOCAL INDIE MOVIE THEATER AT THE SAME TIME!
Important NOTE: 
Gift certificate Holders must email us to book their date! 
—have them email us at bslmovieevents@gmail.com !


available Gift options Car for 2, 4, deluxe for 2 , 4, and our Private Mini Screen Experiences !
A great way to support your local small biz and give the coolest gift in town!
Just buy the gift certificate. Give it as a gift! And then the holder will email Us when they know what movie and date they want to use it, they tell us, we hold a spot for them at any one of our 3 atx locations and they drive-in!

gift tickets purchases now are good for use thru end of 2025


Good at all Locations!

the only black out dates are feb 1-14 and Oct 15-31 - 2023,24,25


---
NEWEST GIFT CERTIFICATE JUST ADDED- THE PATRON PICK GIFT
1. PRIVATE downtown BIG SCREEN with 360 city view movie night for 1-2 cars! Your gift holder gets to pick the movie and the date and gets a full drive-in screen with the most amazing view in all of Austin! - $200-$400
and we still have our...
2. SEE OUR NEW PATRON PICK A NIGHT MOVIE GIFT CERTIFICATE WHERE THEY CAN PICK THE MOVIE OF THEIR CHOICE (WE ASK FOR 4 MOVIE OPTIONS) , THEY GET A CAR SLOT FOR 2 AND CAN EVEN INVITE ALL THEIR FRIENDS FOR ONLY $5 A PERSON (IF THEY LIKE)
THE NIGHT WILL BE OPEN TO THE PUBLIC BUT OUR SPECIAL PATRON WHO PICKS THE MOVIE GETS THEIR OWN SPECIAL AREA.
OPEN NIGHTS FOR PATRON PICKS ARE LISTED ON OUR TICKET PAGE AND ONCE A PATRON PICK GIFT IS PURCHASED WE WILL REACH OUT TO FIND OUT WHAT DATE WE HAVE AVAILABLE WOULD WORK!