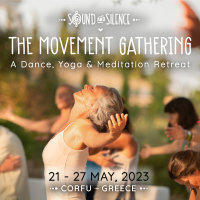 Welcome to The Movement Gathering!

Simple Two Step Booking Process:


Step 1: Book Your Gathering Passes Now
(click on big button)

Early Boogie-Woogie - €444 (stage ends 9 Oct)
Fall Foxtrot  - €555 (stage ends 1 Jan) 
Winter Waltz - €669 (stage ends 21 Mar)
Spring Swing - €777 (ends 21 June)

3 Payment Options: Credit Card, PayPal and Bank Transfers. Bank transfers are preferred, and by choosing this option you save more than €30 as we remove the booking fee. To do a bank transfer please email our office and we will provide you with our details: thegatheringcorfu@gmail.com
Payment plans are also possible for the Gathering ticket, please email our office for details.


Step 2: Buddha Hall Retreat Package
(Required - to be paid in cash during registration on 21 May)
Standard Rate - €360 (check S&S website FAQ page for price breakdown)
2 Payment Options: Cash or Bank Transfer. Paid directly to the Buddha Hall during registration on 21 May (in cash) or no later than 14 May by bank transfer. For bank transfers, please email the BH for bank details.

Includes: Meals twice daily (breakfast & lunch) with one dinner provided on the opening evening, as well as one extra breakfast on the last day (27 May). BH Package also includes basic office assistance (ie. information on booking accommodation, airport transfers, car/scooter/bicycle rental etc). After booking your retreat pass, please email the BH office team and they will give you directions on local logistics: office@corfubuddhahall.com

Does NOT include: Flights, accommodation, airport transfers and local transport. Except for the opening evening, no other dinners are provided. Participants expected to eat dinners in Arillas by the beach.

*Local Transportation: There is an option to pay extra for local shuttle service (€50). For those who want more freedom and flexibility, we recommend people rent and share cars, scooters or electric bicycles. Please email the BH office for details.
Practical Details:
Date: 21 - 27 May 2023,
Location: The Corfu Buddha Hall in Arillas, Corfu, Greece: https://www.corfubuddhahall.com/
Max Capacity: Limited to 50 people.
If you haven't visited our website with all of the retreat details, you can do so here: https://www.sound-silence.org/the-gathering.html

Cancellation Policy: Full refund before 15 Nov, 75% before 1 Jan, 50% before 1 Mar, 25% before 1 April, no refund after 1 April.
If you need to cancel, we recommend you try to sell or transfer your ticket to someone else first, or better yet, save your ticket for a future event. Your ticket can be redeemed at any future Sound & Silence Event.
In case the event is cancelled due to global restrictions, we will offer a choice of full refund or ticket transfer to the next event.


For all other inquiries, please email our office at: thegatheringcorfu@gmail.com