---
---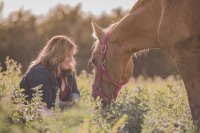 Be True. Be Authentic. Be YOU!
The world is full of books and courses and retreats promising to help you find your true value and purpose. All of us have experienced loss in direction, purpose, self-doubt, low confidence, anxiety or depression at one point or another in our lives. It's normal as we go through the ups and downs of life. The problem becomes when we get stuck in those feelings and can't move forward.

Real, sustainable change comes when you find the answers for yourself. The horses will move you to your potential, and they are not capable of judgment and lying because the fact is, they just can't! Picture yourself working with a living being that's incapable of judging; it is a very freeing feeling as you learn.

The horse is known as "the teller of truth" who desires to "do the right thing". A horse's spirit will lead you in the "right direction" and will assist you in understanding your place in the circle of life.

We spend a lot of money on the outsides of ourselves, it's time we put our money into our insides and build those skills that are authentic to us? That is where the true beauty of who you are exists!

Workshop Includes:
Your personal success guide and direction book
Sessions with horses and objectives to find and solidify your authentic self
Communication assessment - this helps not only you understand what you need out of communication but also gives you an understanding of what others also need in communication
Country lunch, snacks and drinks throughout the two days
Gifts and tools to use and take back with you to your real life
Video of your experience with your horse teacher
Places to stay during your workshop are Calgary or Strathmore area
A life-changing workshop
Authentic You: a powerful experience that is driven with solutions
Be GUTSY, Be BOLD and get out of your comfort zone as YOU deserve it for you, yourself and I!! 

PS - You are the secret to your to your life! You do and will have the answers because the horse, your teacher will help you get there. Our horses will take you on an insightful journey and inspire you to find your next step, your true YOU and change your life with skills to keep your head high with confidence knowing you are right where you are supposed to be!