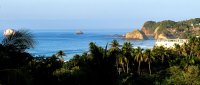 Description
Holiday - a time in the year to stop the daily routine, to let go, to recharge with new strength and inspirations. A right time to turn calmly to new sights and new experiences. A proper time to get familiar with GAY-TANTRA or - as a tantric practitioner - to reconnect with Tantra and enjoy the holidays.
Surrounding:
The village of Zipolite on the south coast of Mexico, in the middle of the sandy beach known far beyond its borders. There, in the holiday paradise La Loma Linda, picturesquely situated on a gentle hill above the village, find deeper to yourself and experience GAY-TANTRA "In Sun, Wind & Waves" with like-minded people. Refresh your body, mind, soul and strengthen your connection to the universe!
Course and contents
The days start with active and silent meditation.
After breakfast a morning session follows with dance, movement, yoga, body-, breath- and energy work and lasts until around 1.30 pm: We will take stress and tensions out of the body, wake up the erotic energy in the pelvis and connect in the so called "HeartWave" with a partner. The morning programs might also inspire you to practice in the afternoons.
The afternoons are for your personal leisure: Walking, bathing in the sea, driving outside with a boat or just lying in the sun and being alone... Many things are possible at our place.
In the evening we will meet for massages, meditations and rituals and we'll enjoy our gathering.
Conversations and discussions will help you to integrate your experiences with your everyday life at home, providing ideas for post-holidays practice and the ongoing inclusion of GAY-TANTRA in your daily routine.


Organizational Details
Venue
La Loma Linda (The Beautiful Hill), built with a distinct sense of aesthetics and stylish design, consists of six rustic bungalows and four rooms of varying sizes, as well as an open group space with sweeping views of the Pacific Ocean. Rounding out the ensemble is the cafeteria with large kitchen and spacious open lounge area, which invites guests to share meals as well as relax and unwind. With its location, La Loma Linda offers plenty of privacy to enjoy natural peace and quiet; at the same time, just a short walk down the hill leads to the beach. Address:
The Address: La Loma Linda, Carrettera Puerto Angel - Mazunte, Playa Zipolite, Col. Centro, San Pedro Pochutla, Oax. c.p. 70904 - MEXICO
Accommodation and Meals
The fee for accommodation/half board per day/person when staying in one of the luxurious bungalows, each equipped with a sink, shower and toilet, ranges from USD 70 to USD 125, depending on the occupancy of three persons, two or one person, respectively.
The fee for accommodation/half board is per day/person when staying in one of the rooms equipped with a sink, shared bathroom with shower and toilet, between USD 65 and 95, depending on the size and occupancy with two people or one person.

Room booking and payment is done AFTER seminar registration at La Loma Linda directly - we will contact you in a timely manner.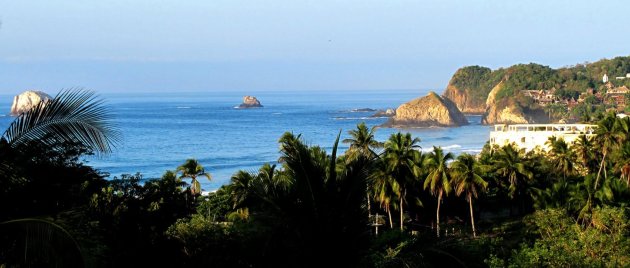 Travel Hints
You will arrive individually by plane, train, bus or car. Your first destination is the airport Huatulco/Mexico.
From there La Loma Linda organizes a taxi for you to pick you up at the airport (time for taxi transfer around 1 hour; transfer costs for 2 persons and more about USD 55 per person).
Welcome to La Loma Linda!
Welcome to 'In Sun, Wind & Waves'