---
---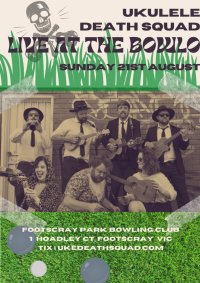 --- One Show Only ----
Melbourne...the wait is over.
The Ukulele Death Squad Squad are back – bigger, bolder, and more boisterous than ever. 
Regrouping for debaucherously entertaining acts of musical anarchy, the Squad has well and truly re-ignited with a new national tour. Time to come to their long-awaited EP Launch at the Footscray Park Bowling Club on Sunday 21 August. 
The Adelaide Fringe Award-winning and critically acclaimed act have sold out show after show, irresponsibly setting local and international audiences ablaze with no intention of slowing down. Expect the unexpected and throw out everything you thought you knew about the uke – the devilish Ukulele Death Squad is coming for you.
Doors @ 3pm

Tickets $25 + Booking Fee

Preorder EP here 
Praise for the Ukulele Death Squad
"It's like Tarantino met a travelling mariachi band and injected them with the punk ethos of The Saints and added flashes of folk and flamenco." - Scenestr Magazine

"Dressed as if they were regulars in the below deck Titanic party… Their charm wins over the audience" – Fest Mag

"Loud, raucous and infectiously fun, this Squad might have looked like respectable businessmen with their suits and sunglasses but they nevertheless brought the house down!" – The Clothesline

"This ukulele band embody the attitude, swagger, style and sense of humour that truly does put the humble four-stringed instrument back in dangerous squad-father territory." – InDaily
"I'm very proud of my boy" - Ben's mum