---
Buy tickets
Ticket Type
Price (£)
Fee (£)
Quantity
---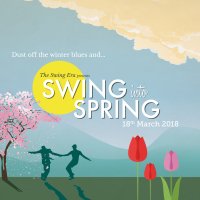 The Swing Era runs Seasonal Socials to bring together its community of dancers from all levels, courses and drop-ins.Dust off the winter blues with our Swing into Spring!
For our first Seasonal dance of the year we ask you to wear your brightest of outfits and bring your sunniest steps... We will create a colourful, positive atmosphere and lots of dancing to really get you back into your groove.
We will start with a Shim Sham workshop (Open to ALL LEVELS), which is one of the most well known jazz routines within the lindy hop community. You will always come across a Shim Sham during our Bothy nights, plus see the video in the event discussion.
After that we'll have our social dance with a surprise performance, different vintage DJs, our popular Bring-a-plate buffet and maybe a little seasonal surprise here and there...
2-3pm Shim Sham workshop.
3-6pm Social dance to vintage music with the finest DJs
Tickets
£15 Workshop & Social
£10 Social only.
NOTE: Our seasonal dances always book out. No tickets on door. Book in advance.