---
Buy tickets
Ticket Type
Price ($)
Fee ($)
Quantity
---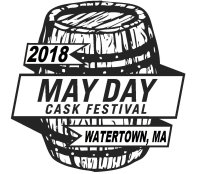 The May Day Cask Festival is a small all-homebrew cask festival that is put on to educate the attendees about the marvels of real ale and how to care for it. We're expecting 6-8 different brews by homebrewers from all around the Boston metropolitan. They'll be around to chat about their brew. Try 'em all! The first two hours will feature half-pours to ensure that everyone gets a chance to try everything.

A fantastic food option will be offered by chef Meryl MacCormack, longtime NERAX supporter, current Jack's Abby Brand Ambassador, and proud owner of Meryl Made LLC, Personal Chef services. We will be looking forward to trying her delicious, traditional and modern English Hand-pies (pasties) which will be available for purchase during the event.
This is a zero-profit endeavor organized by Hosting Cask Ale Events author Randy Baril. Any proceeds in excess of costs will be donated to the Canadian-American Club of Massachusetts.
No walk-ins will be accepted. All attendees must pre-purchase so that we can maintain a complete guest list. 21+ ONLY with valid ID.