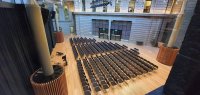 DataEngBytes! is a community conference centred on real world data engineering problems and solutions.
We will have two days of in-person conferences in Melbourne (on the 27th) and Sydney (on the 29th) of September with both days broadcast online on our YouTube channel (https://www.youtube.com/dataengau)
Talks
Our talks are designed to be bite-sized and suitable for in-person and online formats:

- 15 minute lightning talk for up and coming speakers

- 30 minutes (including Q&A)
Our talks:
We will have talks aligned to our four themes:

Data at rest - scaling, data warehouses, data lakes, data storage

Data in motion - event driven architecture, data pipelines, IoT, batch, streaming

Data for machine learning - getting models into production, data pipeline for machine learning, managing data artefacts, feature stores etc

Data you trust - data discovery & provenance, data testing and confidence scoring, ethical consideration and data security plus compliance obligations

We will have a range of stories and real-world experiences from working on your side projects through to enterprise level applications. Share your learnings, experiences and best practices with us.

This is an in-person conference!