---
---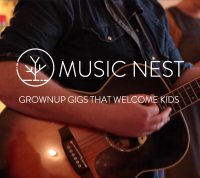 Hello and welcome to Music Nest! Our aim is to put on brilliant gigs that you can bring your family to. We want to create an environment that not only tolerates children but welcomes them. It's a non-judgemental, safe and inclusive space where you can watch great music together. We bring top quality acts at a lower volume, with more light, toys and crafts, a brilliant bar and a great atmosphere that welcomes all.

Catgod - Headlining our first Stroud show are the incredible Catgod. This talented Oxford band's last three singles have featured on BBC 6 Music with 'Someone Love' being featured as Lauren Lavernes 'Headphones Moment'. Expect to go on a journey that will take you from crystaline folk serenity to bouncing sophisticated soulful pop and a myriad of places in between.

Natalie Holmes - Folk influenced music with a pulsating pop heartbeat. Lilting, haunting and yet somehow invigorating, with honey-toned vocals and an incredible depth to every song. Natalie is a DIY musician who's built and impressive resume and dedicated following.
For more details on Music Nest and how it works, please visit www.musicnest.co.uk
Please note Catgod and Natalie are also playing the same evening at The Prince Albert so please don't get the two shows mixed up!