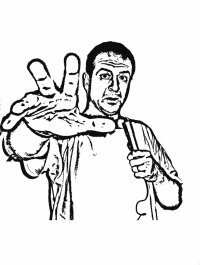 Mark Thomas: Black and White
Expect creative fun from one of our oldest surviving alternative comics. Taking down politicians. Mucking about. New ideas and finding HOPE. This award-winning comedian (is there any other type?) asks how did we get here? What are we going to do about it? Who's up for a sing song? After lockdowns and isolation this show is about the simple act of being in a room together and toppling international capitalism.
"You'll leave recommitted to the fight against this appalling authoritarian government, to keep that tradition alive." Guardian 2021
PRESS ON 'CHECK UP: OUR NHS AT 70' (2018)
★★★★★ "Highly entertaining… very funny… a heartfelt love letter to the health service" THE i
★★★★★ "A master of this type of entertainment… this is a deadly serious and important show" THE ARTS DESK
★★★★★ "Check Up is a fantastic a stirring presentation from start to finish" REVIEWS HUB
★★★★★ "Possibly his finest work to date… I cannot praise this show enough… a very accomplished piece" EDINBURGH REPORTER
★★★★★ "Hilarious, informative, moving, and an inspiring tribute" EVERYTHING THEATRE
★★★★ "Thomas's wide-eyed astonishment is infectious… having painted a picture of extraordinary care and commitment, Thomas is able to fire his political volleys from the inside" THE GUARDIAN
★★★★"An engaging and informative 75 minutes where anger and humour bounce off of each other to good purpose" THE INDEPENDENT
★★★★ "This a show that comes from the guts" THE TELEGRAPH
★★★★ "A compelling, heartfelt documentary" METRO
★★★★ "A devastatingly thorough portrait of a system in crisis, shot through with unlikely humour as Thomas's fury grows" FINANCIAL TIMES
★★★★ "Perfectly balanced between laugh-a-minute entertainment and hard-edged political commentary… a wonderful tragicomic journey" THE SCOTSMAN
★★★★ "'Engaging, and sometimes explosive… an impassioned interrogation that offers as much hope as despair" TIME OUT
★★★★ "Hilarious and self-deprecating… a compassionate and trenchant show" THE LIST
★★★★ "Righteous, moving and funny… Mark Thomas should be on prescription" THE HERALD
★★★★ "A worthy and highly entertaining show" BRITISH THEATRE GUIDE
★★★★ "Tempered with his impish wit…Thomas is driven by a fire in his belly" CHORTLE
★★★★"Mark Thomas' impassioned mixture of reportage and storytelling takes the temperature of the NHS" THE STAGE
★★★★ "Excellent … long may Mark Thomas keep calling the decision makers out" BRITISH THEATRE
★★★★ "Very funny… it's almost as if we're involved in the heart-stopping action" MORNING STAR
★★★★ "Delightfully contrary and eminently humane… his is a voice that is sorely missing from the wider political landscape" ED FEST MAG
★★★★ "Compelling, both as polemic and theatrical endeavour" THREEWEEKS
★★★★ " A highly entertaining, emotionally involving show…another excellent show from the Fringe's great storyteller" SPIKED ONLINE
★★★★ "A well informed, sophisticated introspection… superb" BROADWAYBABY
★★★★ "Unafraid to challenge expectations… Thomas on fine form, using his skill as a theatre maker and passion for a truly up-to-the-minute topic to create a riveting piece of work" FEST
★★★★ "An incredible performer: Check Up is delivered at a relentless rat-a-tat pace that barely stops for breath" LONDON CITY NIGHTS
★★★★ "This is Mark Thomas on top form, talking about a subject close to his heart" WEST END WILMA
★★★★ "A fascinating zeitgeist show… intriguing and hilarious" A YOUNGER THEATRE
"An hour of stage time with crystal clarity, pragmatism, and without a hint of exceptionalism" EXEUNT
Age guidance 16+
ON SALE NOW!