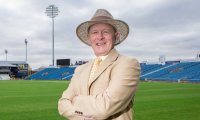 AN EVENING WITH SIR GEOFFREY BOYCOTT
~ A Brand New Knight Out! ~
Cricket fans countrywide miss Geoffrey's distinctive voice and abrasive personality on our airwaves. Test Match Special is so much the poorer without his expert analysis, forthright opinions - and hilarious banter with Aggers!
Who now in the box has faced Lillee, Thommo, Marshall, Holding and the rest in their pomp? Who else has stood a few short yards away from these fearsome competitors bowling over 90 miles an hour at their head? And who else can put your there and tell you exactly what it feels like?
Geoffrey has always had a unique ability to communicate what it actually feels like to play the game at the highest level. He can analyse playing conditions, a player's technique and predict outcomes with forensic expertise and unmatched accuracy. He has been in love with cricket all his life and, from a young age, worked with blinkered dedication on his craft. At the height of his powers, he was acknowledged as being the best batsman in the world. This unparalleled experience and his deep love of the game are what make his forthright, honest views so compelling.
In An Evening With Sir Geoffrey Boycott, Geoffrey shares personal film footage from an incredible career - some which has never been seen before. He recalls hilarious anecdotes featuring the larger-than-life personalities he has encountered on the way - among them Brian Close, Fred Trueman, Ian Botham, Harry Secombe and his great pal, Brian Clough. There is also a chance for the audience to ask Sir Geoffrey their own questions.
You may not be able to hear Geoffrey on the radio, but you can see him live on stage in An Evening With Sir Geoffrey Boycott. Photos, films, Aggers wind-ups and hysterical anecdotes - all in all it's a brilliant and unmissable new evening in the company of one of this country's greatest ever sportsmen.
As ever, this cricket event is being run in aid of the Professional Cricketers' Association and we raise money from the evening for the Professional Cricketers' Trust.