---
---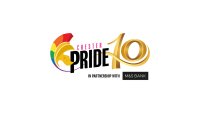 Pre-purchase your dinks tokens for use at the Chester Pride event Saturday 13th and Sunday 14th August 2022.
This year all bars on the Chester Pride site will be managed by Chester Pride, meaning all profits will be retained by Chester Pride to use on future events and our charity work. As a charity, our funds are always limited, and this year we're asking our attendees to purchase fully refundable drinks token card, either in advance or at the event, to help us invest in the event itself.
Operating a token system will also allow us to increase the number of bars, speed up bar service, provide better security for cash on site, and future-proof the finances for Chester Pride.
Once purchased token cards can be collected from the Rainbow Tea Rooms, or on site at Chester Pride on Friday 12th August 5pm - 8pm, or all say Saturday 13th.
You can also purchase token on the day from our token booths using cash or card.
Tokens can be spent as normal at our bars, who are only accepting token card payments in order to speed up bar queues.
All unspent tokens can be fully refunded in cash at our token booths up until 7:45pm on Saturday 13th, or 6:45pm Sunday 14th. Or you can donate your unspent token amounts to Chester Pride to contribute toward our charity work or future events.