---
---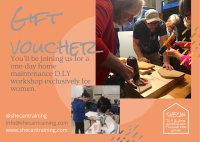 SheCan Gift Vouchers
About this event
The perfect present for the mighty woman in your life!
Grab a gift voucher for our one-day D.I.Y and Home Maintenance workshops, Exclusively for Women. Now available in Brighton, London, Worthing and Dorset.
What some of our SheCan mighty women have said after attending a SheCan workshop:
"It gives you independence and you don't have to rely on someone else."
"It's empowering. You can confidently fix most problems yourself."
"When you have to call an expert, you're forearmed with knowledge about how the job's done, what's needed and how long it will take."
Please Note: 
Gift Vouchers are valid for 6-months from the date of purchase. 
There is a £2.00 booking fee charged.
Brighton: £175.00
Dorset: £170.00
Worthing: £180.00
London: £190.00
When you're lucky new SheCan'er finds a date they'd like to book on, they just need to pop us an email to info@shecantraining.com and we'll book them on :)
SheCan workshops are limited to 7 women, so they'll have one on one time with our instructor and we keep everyone as safe as possible during these times.
You can check out our covid safety policy for workshops here.