---
---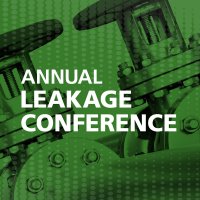 Welcome to the 23rd Annual Leakage Conference booking portal
24-HOUR passes are sold out, but there are two day passes or day/dinner conference places remaining.
If you would like to join the pre-conference networking and pre-conference dinner. There are many hotels nearby that you could use for your own hotel booking for B&B and then book a day/dinner pass. 
Building on the sold-out 22nd Leakage Conference, this December's conference will bring the same rich programme with even more opportunities for interraction and connecting with colleagues, providing a valuable forum for leakage specialists across the UK. 

Network with industry colleagues
Create collaboration opportunities
Discover the latest in leakage management

Key dates for your diary:
Monday 5th December - Pre-Conference Dinner at 7.30pm, with Leakage Lounge & Bar open from 3pm onwards
Tuesday 6th December - Conference 9am to 5.20pm 
        The conference will be available via livestream on ZOOM for those unable to join us in person.
Queries:
Over 180 delegates from these organisations have already secured their Conference places:

Affinity Water | Aganova | Anglian Water | Anthire | Aqualogic | Aquam | Artesia Consulting | Asterra | Atkins | Atmos International | AVK UK (Smart Water ) | Bentley | Bermad | Binnies UK | Bristol Water | Cla-Val UK | Crowder Consulting | Durham University | Dwr Cymru | FIDO Tech | GCR Tech | Gutermann | HGM Water Solutions | HWM | Hydrosave | Inflowmatix | Invenio Systems | Jacobs | Jamie Lynch Consulting | Mueller International Holdings | MW Polymers | National Leakage Research & Test Centre | Northumbrian Water | Ofwat | Ovarro | Pinweld | Portsmouth Water | Robinson PCE | Royal HaskoningDHV | RPS | Scottish Water | SES Water | Severn Trent Water | Skewb | SME Water | South Staffs Water | South West Water | Southampton University | Southern Water | Stantec | SUEZ | Teccura Software | Technolog | Thames Water | The Water Report | United Utilities | Utilitec Services | Watershed Associates | Water UK | Wessex Water | WLLS | WRc | Xylem | Yorkshire Water