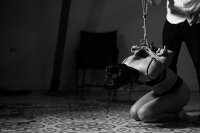 Ticket price £190 per couple.
Tickets released on Sunday October 23rd at noon.
Pre-register to get notified of tickets first hand.

Anatomie's 4 part shibari progressive course, offering a modern and practical approach to rope bondage. The course is taught by Fred and Anna, tying partners and life partners of 10 years, and focuses primarily on technique and partnership. The series will take you from complete beginner to proficient at full suspension over the duration of 4 weekend long courses. We offer a relaxed and non-judgemental environment for you to discover shibari at your own pace.

This is the third course in our foundational course series created by Anna Bones and Fred Hatt of Anatomie Studio. There are 4 courses in total.

Course 3 picks up where the previous ones left off and focuses on partial suspensions. Over the course of this weekend we continue our journey upwards this time. We will revise our knowledge of structural harnesses and learn how to apply and secure uplines in order to play with gravity. We will look into more depth into tensioning, placement, sustainability and elements of play, all the while teaching you classic shibari shapes close to the floor.

We will also cover topics such as reading the body, communicating between partners (including non verbal communication tips), how to self-assess, safety tips and how to come out of difficult ties. We will also talk about "pain processing" and bottoming for suspension.

In this course we will cover:
- Structural Third Rope of the TK
- Attaching of mainlines to harnesses
- Suspension line lock-offs
- Setting and choosing the height of your point
- 2-3 leg and upper body harnesses such as the "futomomo", the "calf binder", hands in front harnesses and more.

Who can come to this class? Are there pre-requisites?
This class has prerequisites for riggers and rope bottoms/models – please make sure you meet these before booking to avoid disappointment on the day.
Completion of Course 1 or Course 2 gives both riggers and models the necessary prerequisites for this course. You can still join us without having completed these courses with us, but please check that you meet the prerequisites below. If in doubt please get in touch at enquiries@anatomiestudio.com
-Riggers must know how to comfortably tie a structural upper body harness - preferably a two rope Takate Kote - taught to you in a class, workshop, private tuition or reputable online learning platform
-Rope bottoms should be comfortable being tied in an upper body harness - ideally a TK - and be familiar with the differences between nerve and circulation impingement.
-Riggers must know how to check for nerve impingement. You must inform your model of the risks of rope suspension.
Please note that Fred and Anna's tying style is TK heavy and will focus on this tie throughout the foundation courses. The teachers will use and teach the TK for the majority of the demos and exercises. Students are welcome to use other harnesses. Please note the use of other harnesses in some cases substantially changes the effect of the ties. The teachers always aim to provide adaptations and alternatives to TKs whenever possible and attendees are free to use any upper body harness that suits them best and count on teacher support and feedback.

What should I bring and what do I wear?

We have ropes you can use during the class and we have a communal kitchenette, fridge and microwave. Tea and coffee are free but you should bring your food and snacks (we have plates and cutlery you can use). People usually wear comfortable clothing like yoga or dance attire. We advise against loose fitting clothing and also jeans can sometimes feel a bit restrictive to move around in and difficult to tie on.

//

For our Code of Conduct see here.