---
---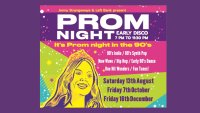 Your host Jonny Strangeways long time DJ (Strangeways / Imaginary Friends / Sex Dwarf / Party Party / Bad Sneakers / Don't Falter) aka gojoonnygogogo is back for a Christmas MAD FRIDAY special and will be creating an unforgettable night!
 
It's Prom night in the 90's ... expect to hear Music to dance to - 90s Indie - 80s Synth Pop - Hip Hop - New Wave - Early 90s Dance - Pop Hits and One hit Wonders!
Kate Bush/KLF/ Pulp/Beastie Boys/Alanis Morissette/The Smiths/Salt 'N' Pepa/OMD/Run DMC/Chemical Brothers/2 Unlimited/Tears for Fears/Donna Summer/Buzzcocks/Placebo/Dee-Lite/Radiohead/The Cure/Technotronic/Cypress Hill/Depeche Mode/ Joy Division/Ace of Bass/Blur/Pet Shop Boys/Chaka Khan and more

Music to dance to. No new music here, you know it all, trust us.
The final half hour will be slow dance smooching tunes and a few Christmas faves to get down to! BUT Please note, due to Jonny being The Gringe and not liking Christmas, expect no more than 5 Christmas songs in total!
A game of Prize winning Bingo will start your night off, don't be late!

Dress for a Prom or wear whatever you want - there will be a prize for best dressed too.
Everyone welcome, plenty of tables and a dance floor.

Doors 7pm
Bingo 730-8pm
Dancing until 11.30pm 
Bed by 12!

Please note these tickets are Non - Refundable