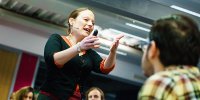 Breaking Into Script Reading: 2 day workshop with Lucy V Hay
An intensive two-day workshop that breaks down the art and craft of reading scripts to help improve your own writing, to also improve your feedback for other writers and most importantly, to earn you money as a professional reader.
Learn how to produce industry standard analysis for agents, producers, production companies and broadcasters – all of whom have mountainous 'read' piles. The ability to distinguishing a 'Pass' from a 'Consider', or even a 'Recommend' will make you a valuable asset to the biggest and most prolific production companies.

Key elements covered include:

WHO uses script readers

WHAT the key components of a script report are
WHERE to source those elusive script reading jobs (even ones not advertised)

WHEN to walk away and avoid conflict with writers

WHY reading as a job can improve your writing AND most importantly, your understanding of the business.


What is included?*

Writing a fully professional report
How to negotiate pay for your work and where to find it
Techniques for constructive criticism and avoiding conflict
What constitutes "marketability"
Identifying strong concepts
Why context matters: how sample scripts and sold scripts differ
Tips for helping writers improve their craft
Understanding how logistics affect filmmaking
How to write positive script reports that get results for writers and execs and gets you re-hired for the next job


Why become a script reader?
You can work freelance, on your own terms, wherever you like and fit it around your existing commitmentsIt's challenging, interesting work in an industry that never stays still, keeping you on your toes!
You can make money AND work in the film, TV or literary industry, no more day job to distract youIt's a great way to make useful and interesting contacts.
There is professional development: script readers often move into script editing and some become development executives, literary agents, producers and filmmakers
Reading other people's scripts is a sure fire way to improve the quality of your own work.

Get paid to do it.


Breaking Into Script Reading is tailored for those who want to gain understanding of how the marketplace works, as well as how to analyse screenplays professionally.
In other words: script reading is a PERFECT job for the creatively minded!
Your Tutor: The course is taught by Lucy V Hay, author, script editor, producer and blogger behind Bang2write, one of the UK's top sites for screenwriters. Lucy has been a script reader for agents, production companies, screen agencies, investment initiatives, screenwriting competitions and individual writers and directors for over ten years.
What people say about the course

'Awesome event that equips you to provide professional feedback and PASS-proof your own work. Great fun!'
Adam Spring, Writer & Director'
Not a PASS. Nor a CONSIDER. Definitely a RECOMMEND!'
Roberto Gomez Martin, Writer & Director

'Lucy is a Force of Nature!'
Elsa Evripidou, Writer & Producer

'I didn't realise how many opportunities and avenues there were for potential script readers until yesterday.'
Nick Harrison, Screenwriter

'A great opportunity for aspiring writers to see the mistakes that derail scripts and learn to avoid them.'
Nick Jackson, Writer
'This course not only helped me understand how to be a script reader, it showed me how to be a script writer who can connect to an audience. Great atmosphere, great knowledge and great contacts.'
Daemian Greaves, Filmmaker/Writer