Discover Modern Buddhism
In-person | Bangor
With Buddhist monk & Resident Teacher Kelsang Jangchub.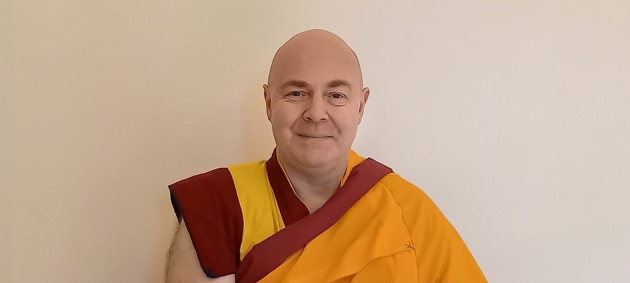 Kelsang Jangchub is a Buddhist monk and the Resident Teacher of Kalpa Bhadra Kadampa Buddhist Centre. He has studied and practised Kadampa Buddhism for many years and is known for his good heart and dedication; he teaches in an open and accessible way making Buddha's teachings and the practice of meditation relevant to everyone.
EVENT DETAILS
Modern Buddhism is a special presentation of Buddha's teachings on compassion and wisdom that communicates their essence in a way that is easy to understand and put into practice. The classes are suitable for beginners and those with more experience and include practical advice and guided meditation.
Day & Time Mondays 6.30 - 7.45 pm
Drop-in class Dates Aug 22, 29, Sep 05, 12

Fee £6.00 per class, or £19.00 for 4 classes / Free for Centre Card Holders
Tickets please book in advance to save your space.
Venue Friends Meeting House, 6 Dean Street, Bangor
Accessibility the venue is fully wheelchair accessible.
Covid Guidance Update Thank you for supporting the centre during the pandemic. From Monday 28/02/2022 you are no longer legally required to wear a face mask at our classes, courses and retreats but may do so if you wish for personal reasons. We ask you to continue to follow guidelines for social distancing and hand washing / sanitising etc. We continue to use extra ventilation as part of our covid safe arrangements for classes. Please let us know in advance if you have additional personal requirements and we will endeavour to help and support you as best we can. 
Full details of how we make our events safe and what we ask you to do can be found here: meditateinnorthwales.org/importantinfo/
About us Kalpa Bhadra Kadampa Buddhist Centre is based in Llandudno and offers a programme of classes, courses and retreats for everyone who wants to learn more about the study and practice of Buddha's Teachings in modern life. For other course and to join our mailing list please visit our website