---
---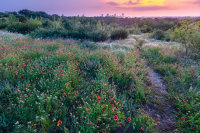 Native Prairies Association of Texas (NPAT) is hosting an evening of great food, drink, music, AND conversation. This will also be the start of something bigger.
You are invited to take part in this ground-breaking event to enjoy, consider new options, and make connections. Experts from the private, urban planning, property development, and natural resources sectors will engage in a broader conversation about how open spaces and prairies can coexist with regional urban development.
The evening will also support NPAT's North Texas outreach, stewardship, and education programs. Director Dr. Carly Aulicky is working with local communities and landowners to appreciate, protect and restore native prairies. All for the benefit of people and biodiversity.