Half-Day Course - How to Improve Relationships
In-person | Shrewsbury
With meditation teacher Kelsang Jangchub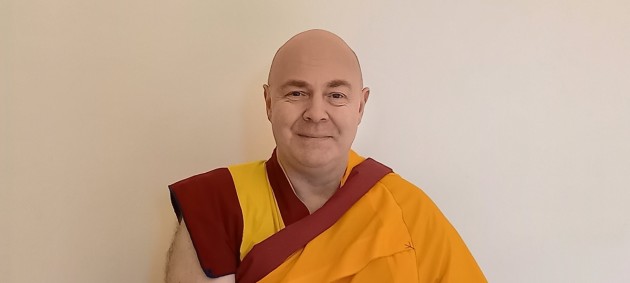 THE TEACHER

Kelsang Jangchub is a Buddhist monk and the Resident Teacher of Kalpa Bhadra Kadampa Buddhist Centre. He has studied and practised Kadampa Buddhism for many years and is known for his good heart and dedication; he teaches in an open and accessible way making Buddha's teachings and the practice of meditation relevant to everyone.


EVENT DETAILS
Saturday 01 October | 10 am - 1 p

A half-day course looking at love, kindness and patience
In this practical half-day, Buddhist monk and popular meditation teacher Kelsang Jangchub, explains how to distinguish love from attachment and find great joy and meaning in our lives and relationships. Everyone welcome.
Recommended further reading: 
Meditations for a Kind Heart — available as a CD and audio download, usually available at our meditation classes also from Tharpa Publications. 
How to Transform your Life — available as a free eBook. The paperback is usually available at our meditation classes
www.tharpa.com/uk

Fee £15.00 / Early-bird £12.50 (by 25 Sept). Free for Centre Card Holders
Tickets Please book in advance to reserve your place or just drop in.
Venue United Reform Church Hall, Coleham Head, Shrewsbury, SY3 7BJ.
Covid Guidance Update Thank you for supporting the centre during the pandemic. From Monday 28/02/2022 you are no longer legally required to wear a face mask at our classes, courses and retreats but may do so if you wish for personal reasons. We ask you to continue to follow guidelines for hand washing / sanitising etc. We continue to use extra ventilation as part of our covid safe arrangements for classes. Please let us know in advance if you have additional personal requirements and we will endeavour to help and support you as best we can.
Full details of how we make our events safe and what we ask you to do can be found here: www.meditatenorthwales.com/importantinfo

About us Kalpa Bhadra Kadampa Buddhist Centre is based in Llandudno and offers a programme of classes, courses and retreats for everyone who wants to learn more about the study and practice of Buddha's Teachings in modern life. For other courses and to join our mailing list please visit our website