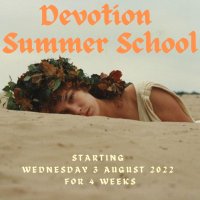 Light stretching my late summer shadow long
over parched grass, low sun, this alive, this
evening. Light of mid-morning picking out
all the trees' capillaries, black against the light
of blue's possibilities, would I rush outside
to see this, yes I would, this light? It's so kind,
it remembers me. Light of first thing, spilled sky
mixing day up, all the colours that go into day,
you wouldn't believe how many. Hard light
to be walked into like a mirror, day coming
down hard on its sharp edge; you can never
really see yourself the way others do, that's
the hard thing; or is it a good thing? (God
doesn't answer prayers, people do.) Light as
sunbeams that lie on the floor of your room
like ways through, they're not real ways
through they're just a reminder that there
may be a way through. See how the cat
anoints herself in the sunbeam, for she knows
she is not mortal and is waiting for the sign …
- (Light) by Emily Berry
Devotion Summer School
Seek shade during high summer with Devotion Summer School. 
Join us every Wednesday evening between 3rd and 24th August for guided reading and writing sessions during which we will be thinking about heatwaves and washing lines, Emily Berry, Octavia E. Butler, JG Ballard, Ariana Reines, desert fathers—and mothers and blood moons. Devotion is also an opportunity to meet other writers and share work.
Summer School is only bookable as a four week block and we encourage attendees to come every week. However, we do record the sessions so that you can watch and participate at your own convenience.
Dates
Wednesday 3 August, 6pm-7.30pm GMT
Wednesday 10 August, 6pm-7.30pm GMT
Wednesday 17 August, 6pm-7.30pm GMT
Wednesday 24 August, , 6pm-7.30pm GMT
In order to nurture a regular writing practice, and a sense of community, we encourage attendees to come every week and are offering tickets for the entire term only. 
Pricing
We offer a sliding scale payment structure and trust that people pay according to financial means.
Pricing structure:
We offer a limited amount of full price tickets that include a 121 with Sophie on your writing practice.
We offer a full price ticket for waged attendees.
We offer a non means-tested concession price based on trust.

Our scholarship places have now been filled.