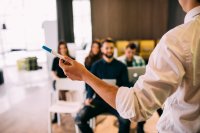 Advanced mental health first aid
If you're wanting to create a real, fundamental change in how your organisation views mental health and supports your employees then this is the course for you. Designed for HR and management this course will equip you with an advanced level of understanding of mental health, how to support people at every level and how to support your mental health first aiders.
Spread over 3 days,  this 12-hour course dives deep into the world of mental health and support. Going into greater detail, covering more conditions and giving you more on the How, Why and When of Mental health First aid. 
The modules covered are:
•What is mental health?
• Signs and Symptoms 
•Providing advice and starting a conversation
•Stress
•A module each on Depression, Anxiety, PTSD, Self-Harm, Suicide, Eating Disorders, Personality disorders, Bipolar disorder, Psychosis and Schizophrenia
• Substance misuse
•First aid action plan for mental health
•Mental health in the workplace
•Looking after you
This course will be run over 3 days with 4-hour zoom sessions with breaks throughout.
Here's how it looks:
Day 1: 22nd August 1000- 1400 
Day 2: 23rd August 1000 - 1400
Day 3: 24th August 1000- 1400 ish - May need an extra 15 mins for assessments 
Following successful completion of the assessment, you will receive a Level 3 (RQF) award in supervising first aid for mental health which is valid for 3 years.
There must be a minimum of 5 delegates to run and a maximum of 16 may attend.