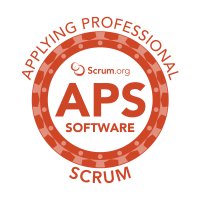 Applying Professional Scrum for Software Development (APS-SD) is a 3-day hands-on course where you will experience how to deliver quality software using Scrum with Agile and DevOps practices. Students will work as a Scrum Team or multiple Scrum Teams depending on class size, creating real code on a realistic software system.
Over the 3 days, students gain a real-world view of what it is like to build software with Scrum. Throughout the course, students collaborate over a series of Sprints. They apply modern engineering practices, and use the Scrum framework to cope with changes. There is a key focus on having students learn how to develop and deliver increments of potentially releasable functionality from a realistic Product Backlog. By doing so, students will experience real-world challenges and issues and will learn how to handle them by continuously improving during the Sprint cycles.
The course teaches how Agile engineering practices and supportive DevOps tools improve a team's capabilities even more.

The Trainer

Alex Brown has over 20 years of consulting experience in developing IT products within the financial sector as a Developer, Scrum Master, Agile Coach, and Software Craftsmanship Coach. He is passionate about building high performing organisations and teams, growing an Agile culture, and enabling people to be more efficient and effective in delivering value.

What Participants Have Said
"A great course, professionally prepared, hands-on, very engaging and full of real life examples. Alex is a wonderful trainer and every minute of the course was full of practical knowledge which I can implement in my daily work."
"If organisations are really interested in any type of agile transformations then they need to invest in their development teams and this course is the foundation to that."

Further information:
https://www.scrum.org/courses/applying-professional-scrum-for-software-development-training
WHAT'S INCLUDED
All training materials are emailed. A copy of the slides with images are provided following the session.
CERTIFICATION
All participants completing the Applying Professional Scrum for Software Development course will receive a password to attempt the Applying Professional Scrum for Software Development (APS-SD) assessment and are entitled to a free resit if the exam is taken within 14 days.
ENQUIRIES
Please email training@calba.com or phone +44 (0)131 528 6833
LIVE VIRTUAL CLASS
You will need a PC/laptop that can run Zoom.us, headset/speakers, microphone, webcam and a reliable internet connection to participate. Contact training@calba.com for any queries.