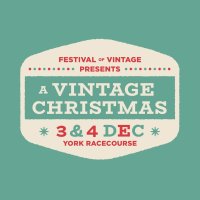 Exhibiting with us at the Festival of Vintage 
Presents..... A Vintage Christmas

Brought to you by the organisers of the Festival of Vintage, a nostalgic Christmas shopping event with entertainment to celebrate Christmas of the past. This is our 2nd Christmas themed event, year one was very well received! 
We attract the same audience as our well respected main Festival of Vintage which takes place in April every year. Bringing together enthusiasts of early vintage from the 1920s-1970's including fashion, art deco lighting and furniture, jewellery, mid-century homewares, toys & games, vintage Christmas decorations and much, much more
Trader booking options and prices are for the two days inclusive. Trading from 10:30 am-4:30pm both days. There is No camping available on site.

Stall prices for the Vintage Arcade:
Single Space Downstairs 3m x 2m with 6ft Table £190 inc VAT
Single Space Upstairs (Levels 1-3) 2.5m x 1.5m with 6 ft Table £125 inc VAT
If you require a double space, order two spaces on the booking form
Click the Book Here button below to see current availability of Vintage & Vintage Inspired space and to go ahead and book your trader space.
Other details:
Set up will be from Friday afternoon 2pm-5pm or 7am Saturday morning and items can be left over night for the Sunday
The event will be held indoors in the Knavesmire Building over 4 floors and has a high footfall with visitors staying all day.
Stall types: This event is a Vintage themed event and as such we are looking for sellers of original vintage fashion, accessories, homewares and furniture etc. Plus suitable vintage inspired/repro items (limited space). 
Your application to trade will be checked to ensure you are selling the right items for the event. If we feel your business does not suit the ethos (high quality, rare and original vintage or vintage inspired) and theme of the event (1920'-1970's), you will be informed and a refund of stall fees will be issued. 
No general food traders, except  for packaged take home sales (please check before applying) and no New products or Crafts that don't have a vintage inspired theme will be accepted. If you are not sure please email before continuing with your application. Email events@discovervintage.co.uk
Terms of Booking: Bookings will be taken on a first come first served basis and payment is required in full at the time of booking to confirm the allocation of a space. Payment must be made via PayPal and a paid VAT invoice can be printed for your records.
Spaces are allocated at the discretion of the Festival of Vintage Limited.
Please Note: Bookings are NOT refundable. Should the event be cancelled due to unforeseen circumstances, your booking would be carried over to a newly arranged date for the Festival of Vintage presents....A Vintage Christmas
This event is organised and promoted by Festival of Vintage Limited, full T's & C's of exhibiting can be found here
VAT Reg No: 416 0552 25