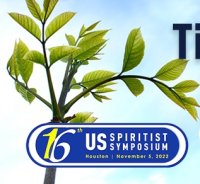 The United States Spiritist Federation (USSF) presents the 16th US Spiritist Symposium celebrating USSF's 25th Anniversary on November 5th 2022 at Rice University in Houston, Texas. 

The symposium, held annually, is a full-day event that brings together everyone who is interested in Spiritism. In a series of presentations and roundtables, speakers from all over the United States will explore the theme, "Time of Renewal" – Healing & Regrowth based on the principles of Spiritism. Also, the symposium provides an opportunity to take life to a new level of self-awareness and purpose. 
After two years of virtual presentations, the symposium will be held in person in the inviting atmosphere at the Anderson-Clarke Center (ACC) on the beautiful campus of Rice University. Activities for children and youth are being prepared by a team of Spiritist Educators with a focus on "Emotional Healing" that addresses the impact of the pandemic on their families and social lives. 

"It is more relevant now than ever before to address the need for inner healing. The pandemic has caused damage in all aspects of human lives – social, financial, and spiritual. We are preparing an event to help us find a path to heal—a path that will inspire us to live a full life. Spiritism offers many tools to achieve this, and we would love to have a full house of people who are in harmony with this purpose," says Tania Schwartz, President of the USSF. 
Spiritism contains a set of principles, revealed by Superior Spirits through mediumship, and organized by the French educator known as Allan Kardec. In essence, it reveals who we are; where we came from; where we are going; what is the purpose of our existence; and what is the reason for our afflictions. Every concern we might have about life can be addressed with reason. Spiritism explains humanity's spiritual evolution through inner transformation via successive reincarnations, the relationship between material and spiritual realms, and how love and charity can help us overcome our limitations so that, ultimately, we achieve perfection. 
To celebrate its 25th anniversary, the United States Spiritist Federation will be honored by the presence of many prior members of its board of directors who participated throughout the organization's 25 years of existence. They will share their experience as part of this organization that has been devoting its best efforts to promoting the integration of Spiritist Centers, and the dissemination of Spiritism.