---
---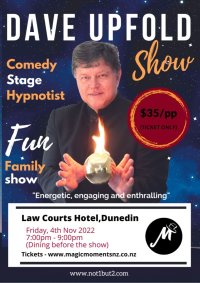 Comedy, Magic and Hypnosis, the all in One Show that will have the audience in "fits of laughter ".
Ideal timing to get a group or a company end of year party together and make it a night to remember.
The last time Dave performed at the Law Courts Hotel.... the show SOLD OUT.
As seen on TV3's "Campbell Live" programme, Dave Upfold is known for his energetic, engaging and enthralling live show involving audience participation and utilising the power of the mind.
With no two shows ever being the same, Upfold has been entertaining audiences around the globe with his "live hypnosis comedy show" for over 25 successful years.
A South African native, the Auckland-based performer has a rich history in comedy, magic, hypnosis and other forms of performance-based entertainment.
Upfold's show involves crowd participation (volunteers only, of course) to create a unique, exciting and unforgettable performance that has jaws hitting the floor and typically leaves audience members rethinking their stance on "the power of persuasion".