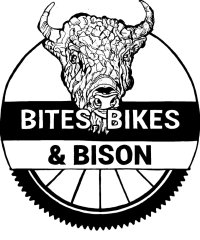 Bites, Bikes and Bison is bigger and better in 2022!
Bites, Bikes and Bison is the annual fundraiser for the Friends of the Pioneers Park Nature Center. This fun, family-friendly bike ride begins in scenic Pioneers Park and takes riders into downtown Lincoln, where food and drink specials await at a variety of popular destinations. 
2022 ride details:
Date: Sunday, Sept. 11, beginning at 11:30 a.m.
Cost: $30
On-site Childcare: Exclusive registration for a concurrent Nature Center Day Camp will be offered to registered BBB participants for an additional fee. Youth ages 4-12 can experience all the fun of Day Camp while parents enjoy time on their bikes! Day Camp registration is limited to 40 participants and is offered on a first-come, first-served basis. Childcare registration details will be emailed separately.
Route: The ride begins in Pioneers Park. Riders can do an optional 4-mile loop in Pioneers Park before they take a 100% paved route into downtown Lincoln, where riders can take advantage of specials at the following establishments:
Bloom Coffee Truck (on-site at Pioneers Park): a TBD drink special 
White Elm Brewing: A free beer
Kinkaider Brewing Co. - Haymarket taproom: A $3 beer
The Mill Coffee & Tea, Telegraph District: A free iced coffee, granita or Italian soda
CODE beer: A free beer
Saro Cider: $5 cider
The Hub Cafe: A Free NACHO BAR

After leaving the park, this year's route takes riders down the Bison Trail to 8th Street (a designated bike route), and then to the N Street bike lanes and Antelope Valley Trail.
Riders can visit as many or as few stops as they like, in whatever order they like. Mileage can range from an 8-mile out-and-back to White Elm to an 18-mile out-and-back to the Hub Café with a loop around the park at the beginning or end of the ride.