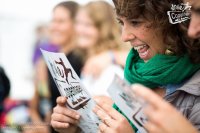 We invite you to join Move Final, the very last edition of Move Copenhagen!

Ten years ago, we created a world of movement, and have since gathered more than 4.000 movers from +50 countries around the world. 
Now, for the final Move festival, we're going all out to make this a unique, one-of-a-kind celebration of movement and community, and we want you to be part of it!
Move Final – by Move Copenhagen
July 24th-27th 2023
As always, we work hard to give you;

Inspiring teachers from all over the world

Great variety of movement forms

Improved venue with lots of new possibilities

Social gatherings & bon fire

Stay tuned and help us spread the word 
https://www.facebook.com/events/1428404437664452
Also check our IG @movecopenhagen
Tickets available from October 1st at 10:00 (Copenhagen time) – only 300 tickets in total.
Ticket prices
35 € Community Builder (25 pcs.) - SOLD OUT

75 € Early bird – Move Final (100 pcs.) - SOLD OUT

110 € Move Final (200 pcs.)

Ticket site:
https://www.tickettailor.com/events/movecopenhagen/728466
Google form for applicating as Community Builder
https://forms.gle/MWA7EMDqDWrVr9eb8
It's time to celebrate for the last time in Copenhagen.
With Love,
The Move Team