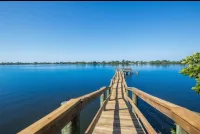 Women In Agile, Open Space, and a Private Waterfront Compound
How might we fulfill our desire to be ALONE AND TOGETHER? Alone to rejuvenate. Together to be inspired.
You're invited to a space designed to walk in freedom, breath, and community. Together, we'll slow down as a circle, as we choose our own adventure — whether sitting in dialogue, taking in the beauty of the water, or crossing the bridge to contentment.
Join to renew. Join to be inspired. Join to be surprised by unimagined possibilities!
The Experience
While here your well-being is prioritized. There will be ways to signal if you want to be alone or together.
Thursday - Check In & Mingle
Friday - Open Space
Saturday - Open Space
Sunday - Check Out  by 11 am eastern sharp

Meals are included. A variety of overnight accommodations are available at the retreat compound. Shared rooms are with one other person.
Learn more about open space: https://www.openspaceworld.com/brief_history.htm
Women In Agile Open follows the Women In Agile Code of Conduct, please take a few minutes to read it over https://womeninagile.org/conduct/.
The Venue
The unconference will be held at a luxurious 17,000 SF waterfront compound in Englewood FL. We recommend flying into Ft Myers, FL.
Our History
The 4th annual unconference of Women In Agile Open is designed by women, for women. Past attendees have said "I left feeling pampered" and "I almost don't want to go home!"
Represent at the Retreat with Women in Agile Open Merch
https://women-in-agile-open.creator-spring.com/
We cannot provide refunds; although we welcome a substitution of a different attendee in your place.
For questions about the event or to become a sponsor contact our founders Linda Cook, Colleen Esposito, April Jefferson, or Brielle Maxwell.
Follow us on Twitter, LinkedIn or www.womeninagileopen.com.
A big thanks to our sponsors!